Last updated 10th November 2023
Retreats
Often it is difficult to take time out from the hustle and bussle of daily life to spend time with God. Day, weekend or longer retreats can provide that opportunity.
Listed below are opportunities for making a retreat or taking a quiet day around Lancashire and Yorkshire. Some places offer retreat programmes and/or spiritual guidance, others hospitality and space for reflection. All have access for those with differing levels of mobility.
Whalley Abbey - The Blackburn Diocesan Retreat and Conference Centre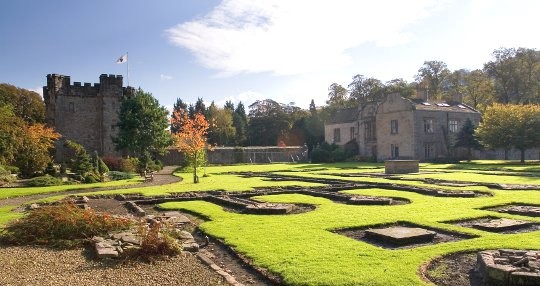 Whalley Abbey, The Sands, Whalley, Clitheroe, Lancashire, BB7 9SS
Telephone: 01254 828400
Email: office@whalleyabbey.org
Website: http://www.whalleyabbey.org/
The Retreat and Conference House is set in the stunning grounds and ruins of a 14th Century Cistercian Abbey. On the banks of the River Calder in the beautiful countryside of the Ribble Valley, but with easy access to motorway and rail network.
The Abbey's programme of retreats provides a variety of occasions to be still and quiet, to hear from God through His Word and be refreshed in Love for Jesus Christ. Click here to view our 2023/24 Retreat Brochure.
---
The Order of Companions of Martha and Mary
The Order of the Companions of Martha and Mary offer a programme of retreats and quiet days throughout the year based at St Joseph's House of Prayer located in the lovely village of Tunstall (near Kirby Lonsdale). They offer a quiet space for prayer and reflection for all who need time out.
St Joseph's House of Prayer, New Vicarage, Church Lane, Tunstall, Carnforth, LA6 2RQ
Email: sistersocmm@gmail.com
Facebook: CompanionsMarthamary
---
Shekinah Christian Centre
Housed in a converted barn near Burnley, Shekinah is a Christian prayer house and retreat/healing centre that offers a quiet, peaceful place for individuals to retreat and relax for the day or longer periods. Alternatively small or larger groups can meet for; prayer, quiet days, events, teaching, etc
Well Head Road, Newchurch-in-Pendle, Burnley, Lancs, BB12 9LP
Phone: 01282 612380
E-mail: info@shekinah.org.uk
---
Scargill House near Ketllewell, offers a safe place to enjoy a private, spiritual or creative retreat. Individuals can come on retreat, whether as guest on a one of the programme of retreats, a private visitor or as part of a private group.
Scargill House, Kettlewell, Skipton, North Yorkshire, BD23 5HU, UK
Phone: 01756 760500
Facebook: Scargill House
---
Open Door Retreats in Daily Life
Dag Hammerskjold wrote that an "un-reflected life is a wasted life." We all need to give ourselves time and space to reflect on our lives, the people, and the experiences. Some people manage to get away to a retreat centre to take the time but this is not always possible, for a variety of reasons. An Open Door Retreat is one way of providing a tool for the essential reflection.
The Open Door Retreat was designed in 1980 in response to a group of people who were desirous of a time of deepening their prayer and relationship with God and others. Two sisters of the Cenacle responded to this desire and the retreat took its form.
Lancashire contact is Christine Maidment christinem69@outlook.com
---
Monastery of Our Lady of Hyning (Warton, near Carnforth)
We are a Community of 10 sisters, 1 junior, and 1 novice, ranging in age and comprising 5 nationalities. The oldest sister is 92 and the youngest member is 26. This broad mix ensures a balance and richness in our community life together. Work and prayer form the basis of our life. We celebrate the Divine Office daily, it is sung 5 times a day.
Tel 01524 732 684, hyningbookings@yahoo.co.uk
---
Donna Worthington Christian Reteats
Donna Worthington is an experienced retreat giver and worked at the ecumenical Tabor Retreat Centre in Preston, Lancashire, which involved leading retreats, events exploring spirituality, contemplative prayer/meditation and creative liturgy. For information on all of Donna's retreats, courses and training, please visit her website.
---

Alternatively, The Retreat Association is a national Christian organisation set up to help people find ways of exploring and deepening their journey with God through spirituality and prayer.
---