Last updated 5th December 2019
Important information about our e-bulletins
From late August you will start to notice some changes to the e-bulletins that are sent from the Diocesan Offices. This is as part of a general review of internal communications in response to past feedback, writes Ronnie Semley, Diocesan Communications Manager.
There are several e-bulletins produced at the Diocesan Offices for sending to parishes, with varying frequencies.
Most are quarterly and contain important information intended for very specific audiences (like 'Safeguarding Matters' which is sent to Clergy and Parish Safeguarding Officers only).
'Communications Update' meanwhile is monthly and is sent to all Clergy and Parish Officers.
A refreshed approach
Firstly, all the current e-bulletins have been redesigned and refreshed to ensure consistency; creating a 'family' of e-bulletins which are all clearly from and about the work of the Diocese.
Soon, all of them will be sent from the 'Mailchimp' e-bulletin platform. (Previously some were sent from Mailchimp while others were circulated as simple pdfs or Word files.)
All will also now be sent from the same Mailchimp account; which also allows for better management of all the information we circulate as well as the data that we manage.*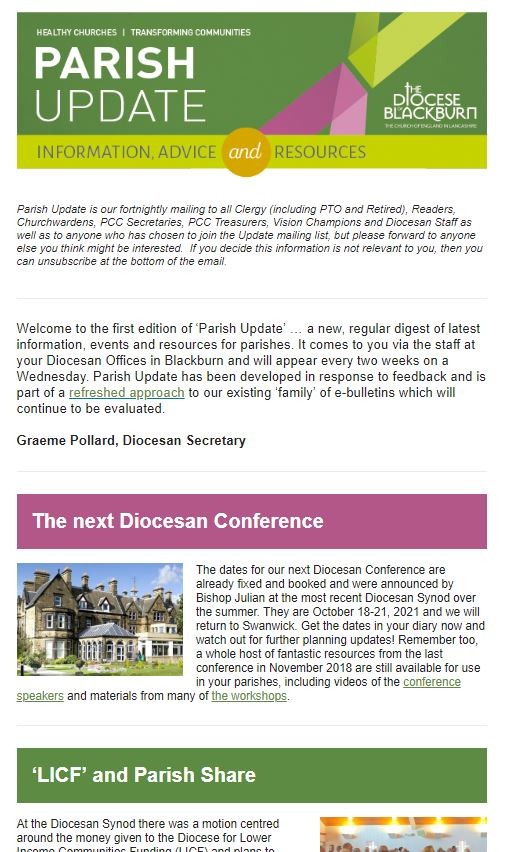 There will also be a more coordinated approach to when in the 'calendar cycle' e-bulletins are distributed - making it much less likely two e-bulletins will arrive in inboxes in the same week for example. But please do bear with us as we embed this new approach as it may still happen occasionally!
Most importantly, there is now a fresh new e-bulletin entitled 'Parish Update' which will appear every two weeks. 'Parish Update' is the new home ONLY for all information, advice and resources from Diocesan Officers to parishes.
Much of this was previously circulated via 'Communications Update' alongside the latest news stories from and about the Diocese, but it will now have a separate home in Parish Update. We hope the creation of this e-bulletin will, in the longer term, also help to cut down on general email traffic to parishes from the Diocesan Offices too.
There will always be the need to send emails direct to specific people in parishes of course.and for all kinds of reasons, but 'Parish Update' gives us a much more regular method of circulating information for general consumption to parishes.
Parish Update has already had an immediate impact. The existing quarterly e-bulletin 'Growing Leaders News' will now end and the information it contained will appear in 'Parish Update' from now on.
Please note Communications Update will continue to appear monthly but will focus solely on 'the Diocese in the news' alongside helpful communications tips for parishes from the Diocesan Communications Manager, Ronnie Semley, who is a member of the Enablers Team at the Diocesan Offices.
---
To summarise, the roster of e-bulletins, we now have are ...
For all Clergy and All Parish Officerholders

Parish Update; every two weeks (coming soon)
Communications Update; monthly

For bespoke audiences there are the following:

Safeguarding Matters: quarterly, for Clergy and Parish Safeguarding Officers
Money Matters: quarterly, for Clergy and Treasurers
Readers' News: quarterly
As mentioned above, Growing Leaders News was quarterly but its content will be now be absorbed into 'Parish Update'
This exciting new approach to our communication with parishes will begin from late August and continue onward from there. We will keep evaluating the e-bulletins through general feedback (email communicate@blackburn.anglican.org) and analytics data available to us through Mailchimp to develop them further in whatever way is needed.
Parish Update specifically will be reviewed at the six month and yearly point during its first year of operation.
If you don't receive an e-bulletin but want to get it, you can sign up to any of our email bulletins here.
---
* As we are now operating from one Mailchimp account it means some recipients who previously unsubscribed from e-bulletins may receive them again. We apologise for this but it is not possible to achieve the changes in any other way. Should you receive an e-bulletin you previously unsubscribed from, just unsubscribe again and you won't receive it in future.
Non-receipt of ebulletins
Finally, if you are NOT receiving an ebulletin but you want to receive it and have subscribed, it is possible the ebulletin has ended up in your junk folder, so check that first. If you find it in your junk email folder, mark it as 'not junk'. Crucially you need to do this while the email is still actually in the junk folder (not after you have moved it to your inbox). This is usually done by right clicking on the email and going to 'mark as not junk'. Next time an ebulletin is sent it should then automatically appear in your inbox.
Ronnie Semley, August 2019
---