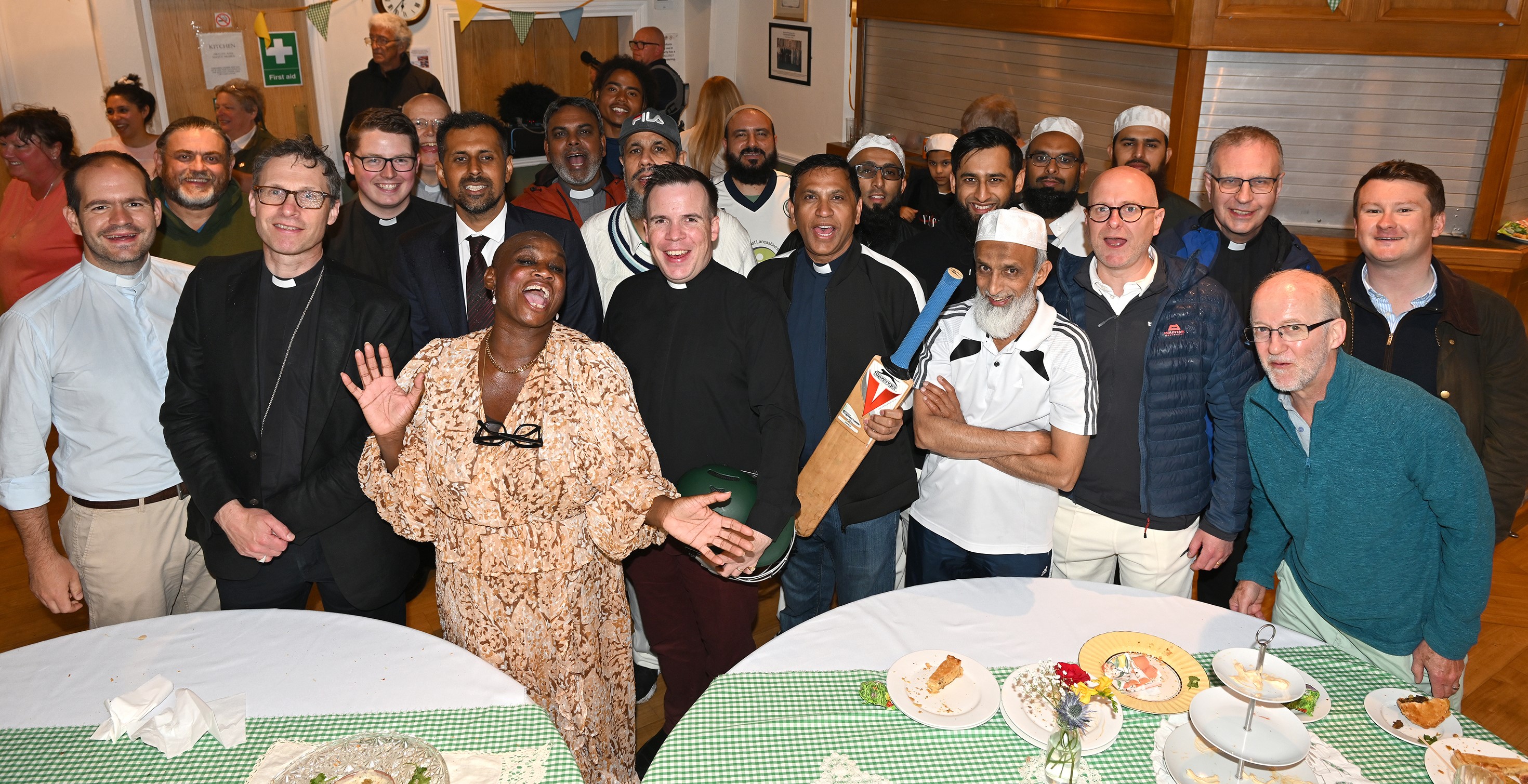 TV chef Andi Oliver spiced things up as part of this year's Lancashire inter-faith cricket match between sides representing The Church of England in Lancashire (Blackburn Diocese) and Lancashire Council of Mosques (LCM).
Andi, who is host of the BBC's Great British Menu, was on hand with a BBC film crew at Belvedere and Calder Vale Sports Club in Burnley at the weekend to add a very special culinary twist to proceedings for a new cookery series coming later in the year.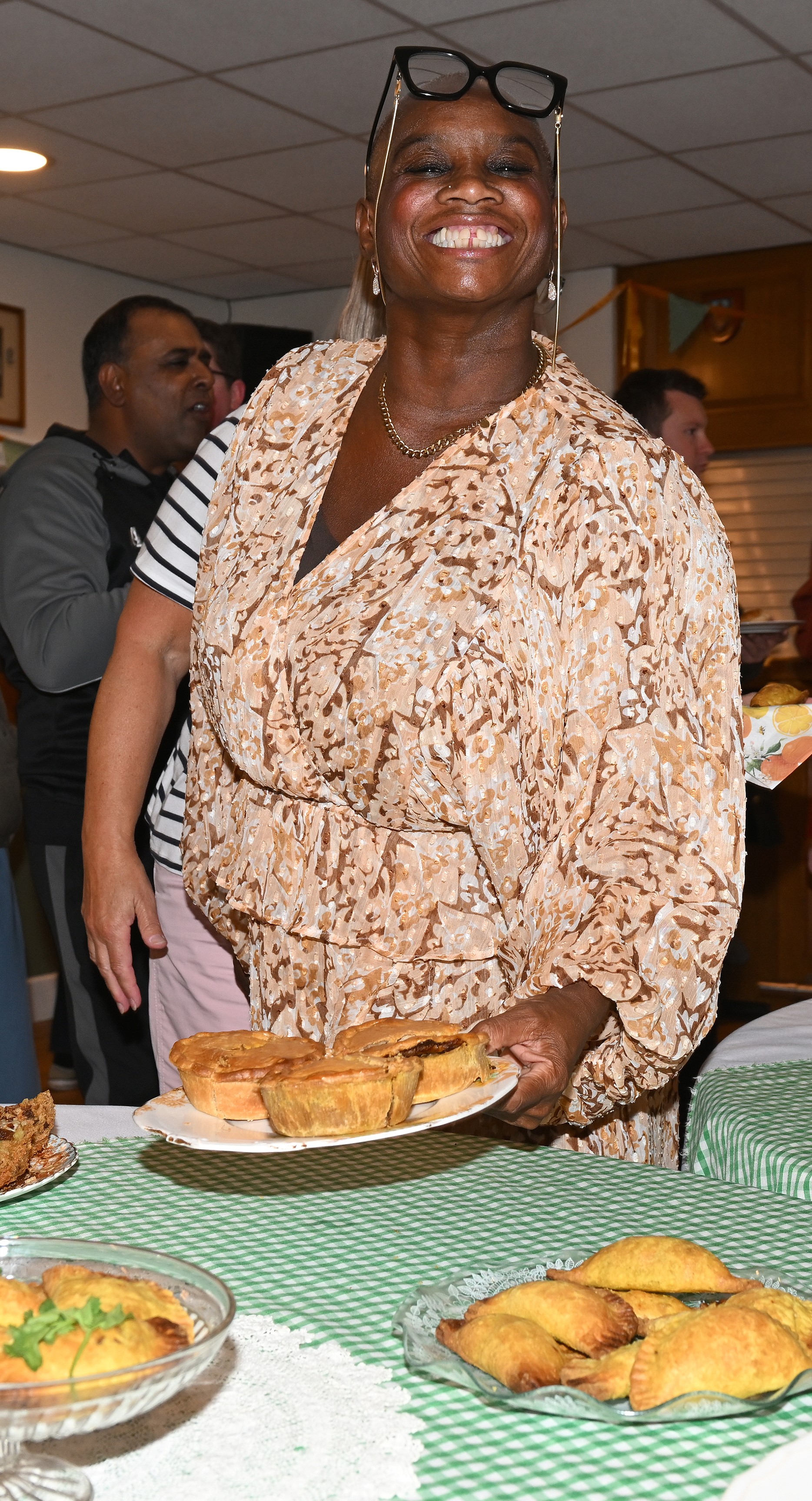 The filming for the BBC by South Shore Productions (makers of Hairy Bikers and Freddie Flintoff's Field of Dreams) saw participation of both clergy and lay members from across Lancashire and teachers, clerics and members of mosques.
The inter-faith County cricket match has grown in popularity and profile since their first encounter in 2018 and has a growing reputation as an exemplar of good community relations.
That reputation caught the attention of Andi and the BBC who wanted to film the teams when they next came together for their friendly cricket encounter.
Sadly, heavy rain stopped play on the day, but there are plans for a rematch in a couple of weeks; on July 28 at Burnley Cricket Club. Meanwhile filming still went ahead at the weekend of the teams tucking into Andi's creations during tea; with food sourced from the best local producers.
See more coverage, with posts and tweets on our Diocesan social channels Twitter and Facebook (links at top right of page) by Diocesan Communications Manager, Ronnie Semley; with pictures by photographer Clive Lawrence. View scenes from the cricket tea with Andi Oliver here in a flickr album.
Listen to multiple reports on BBC Radio Lancashire here at 1.21.50 (Mosques captain Abdul Alim and a visiting Indian Imam); 1.45.25 Afrasiab Anwar, Leader of Burnley Council; 3.07.47 longer report featuring our captain Rev. Jordan McDermott, Rev. Munawar Din, Afrasiab Anwar again, Bishop Philip and Abdul Alim again; 1.57.33 Rev. Tom Woolford.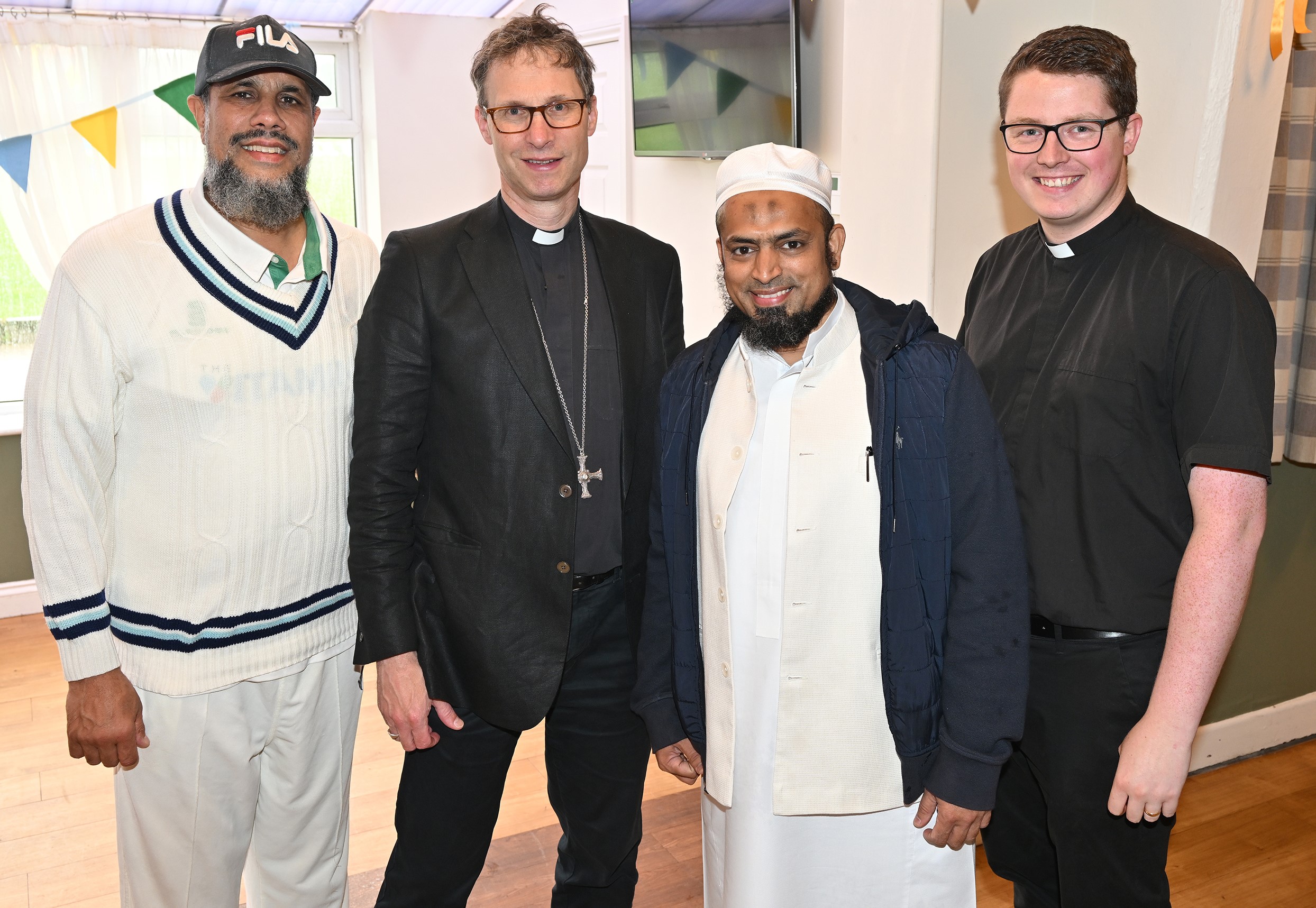 During a break in filming, Andi Oliver said: "It's been so beautiful to be here in Lancashire to see people celebrating difference; supporting each other and understanding each other's communities.
"I'm a big fan of cricket teas, we used to make cricket teas all the time when I was a kid. Cricket, and sport generally, brings people together but it's the intention that's important and the intention of this match is community cohesion and genuine friendship.
"I am genuinely quite moved by the honest intention people have here."
Watch the full short interview here ...
Bishop Philip commented: "This annual match is immensely good fun but also achieves a really good purpose, which is to bring together faith leaders from Muslim and Christian backgrounds and it's great that Andi Oliver and her team are here today to film the event.
"We come together for sport, for food, for friendship and to model good social cohesion - just getting on well with each other - to the communities we serve."
Watch Bishop Philip's short interview here ...
Rev Jordan McDermott, from Accrington United Benefice, is Captain of The Church of England in Lancashire's team and he said: "It is wonderful how this inter-faith, Clergy versus Imams cricket match has developed.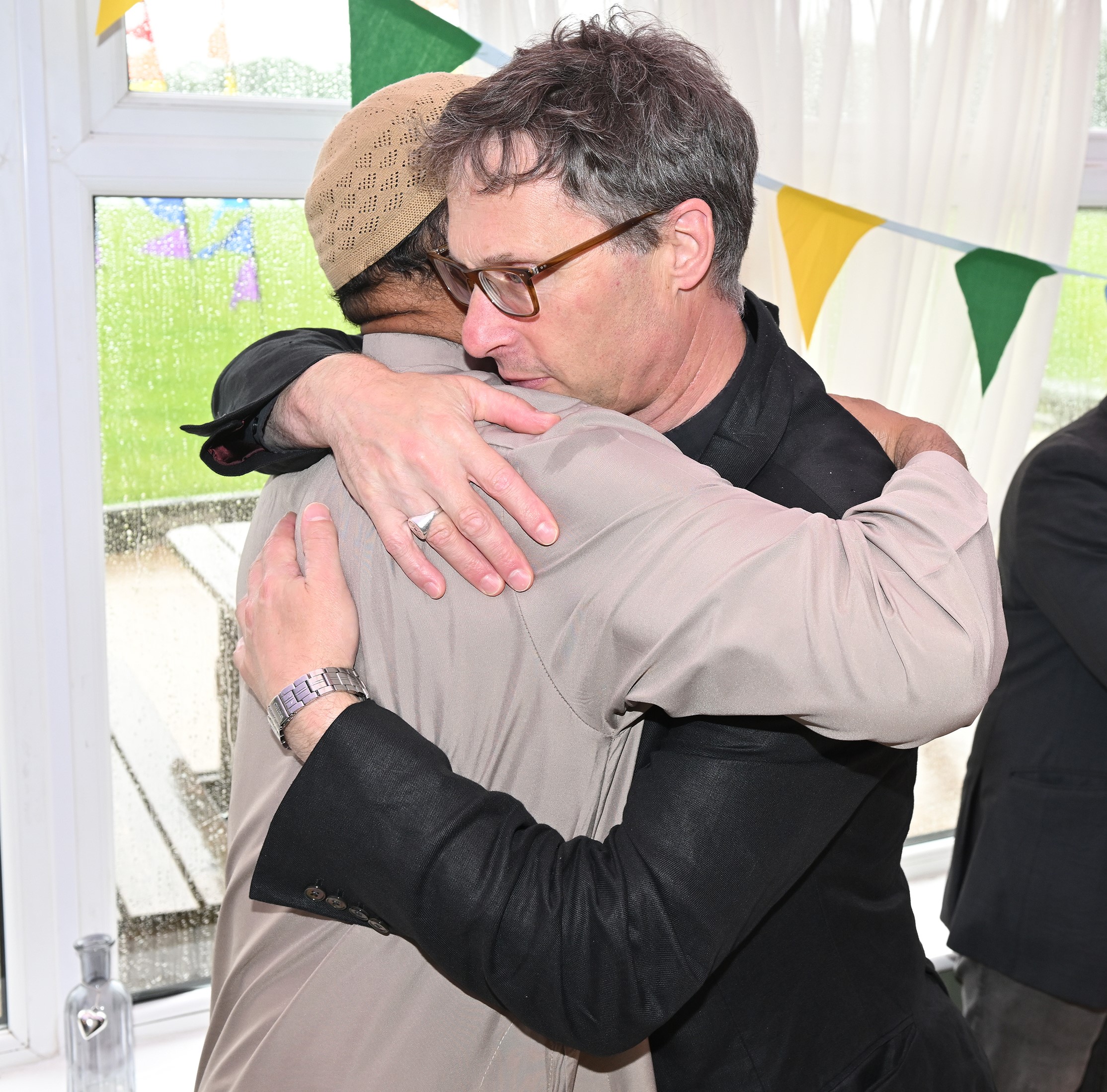 "The relationships which we have fostered are having a real impact on the communities of which we are a part. The cricket is always closely contested, and very competitive - but above all, it is good fun.
"To be able to have the game televised as part of a BBC series looking at community cohesion is a fantastic opportunity to showcase just how superb the inter-faith relations in Lancashire are, and how far they have come. It was good to enjoy spending time with our friends from LCM once again."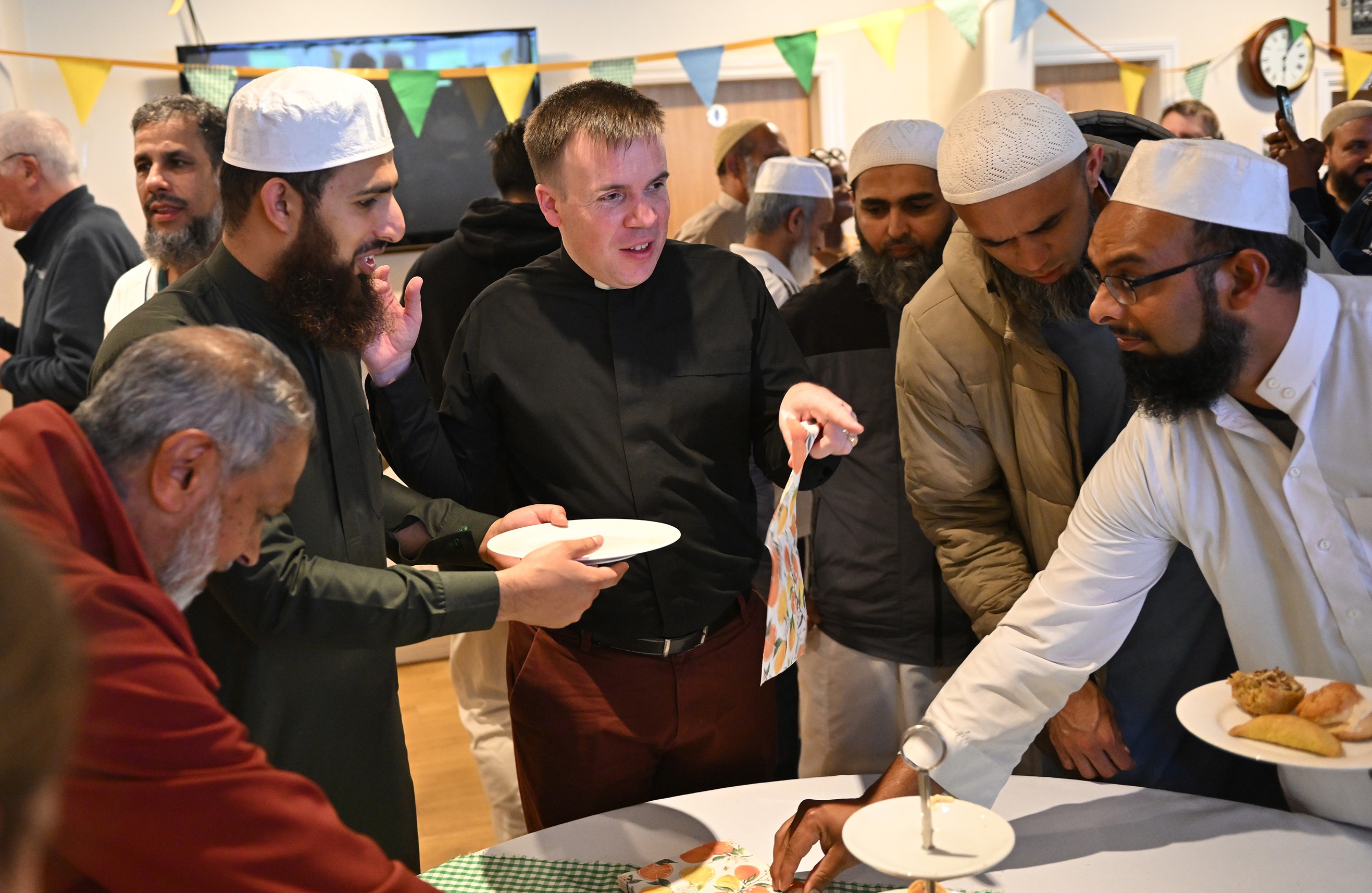 Meanwhile, Mozaquir Ali, Trustee of Building Bridges in Burnley, said: "It's very important that the clergy and imams - leadership of the two faiths in the County - come together to represent their communities in this way and I'm so glad this cricket match is now happening every year, demonstrating the unity we enjoy here in Lancashire."
And Councillor Afrasiab Anwar, Leader of Burnley Council and member of the Mosques' cricket team, added: "It's great to be able to compete against each other in this way but, more importantly, it's about the conversations we have, the friendships we build and the way we come together to promote and celebrate the wonderful communities and wonderful people we have here in Lancashire."
---
Names of Diocesan cricket side and where they are from as follows:
Garry Bullock (Heapey St Barnabas and Withnell St Paul)
Jeremy Davies (Thornton)
Tom Woolford (Vicar of New Longton)
Viktor Sohail (Curate, All Saints Clayton-le-Moors)
Paddy Brown (Clerk to the Diocesan Registry; lives in the Ribble Valley)
Jordan McDermott (Curate, Accrington United Benefice)
Ian Davies (Thornton)
Steve Carter (Diocese of Carlisle)
Munawar Din (Vicar, St Cuthbert's Burnley and St Luke's Brierfield)
Jon Smethurst (member of St Andrew's Leyland)
Craig Abbott (Vicar, St John's Ellel)
Sub fielder: Sam Cheesman (Bishop's Chaplain based in Salesbury)
---
Captions for the above pictures, top to bottom, all taken by CLIVE LAWRENCE:
All smiles … TV Chef Andi Oliver, at front, next to the Bishop of Blackburn, Rt Rev Philip North, and some of the members of the church and mosques cricket teams
TV chef Andi Oliver with some of the food she prepared for the match
Captain of the Diocesan cricket side, Rev Jordan McDermott (right) and Captain of the Lancashire Council of Mosques cricket side, Abdul Alim Kheratkar with the Bishop of Blackburn, Rt Rev Philip North and Mufti Ashfaq Qazi, a visiting Iman from Mumbai
The Bishop of Blackburn, Rt Rev Philip North, embraces Mozaquir Ali, Trustee of 'Building Bridges in Burnley' as he arrives for the meal
Members of the church and mosques cricket teams tuck in to Andi Oliver's feast
---