19th December 2017
Heartwarming Christmas box surprise on Blackpool estate
It was an early start for some of the members of Freedom Church Mereside on Tuesday 19 December as they got up to complete their year-long plan to bless the people who live on the Mereside estate. Rev Linda Tomkinson and her team had made 600 little boxes out of last year's Christmas cards and inside each of them was a little surprise and a message. Rev Linda said "We wanted to give people a nice little surprise as well as reminding them what Christmas is all about. It's great to give and receive Christmas presents so we put a chocolate coin in each box along with the following message:
The three wise men brought gifts to the baby Jesus of gold, frankincense and myrrh. Please accept this gift of gold (chocolate) from your local church. May you know that you are as precious as gold in God's eyes this Christmas.
The plan started last January when Freedom Church Mereside asked people for all their old Christmas cards. Throughout the year 1800 of those cards have been made into small boxes with lids and labels. Finally they were assembled last week with the message and chocolate inside. They were distributed at 6am on a cold and dark Tuesday morning in time for them to be found by children at the local Mereside Primary School and outside the shops and flats in the middle of the estate. They were hung on railings along with signs telling people to take one.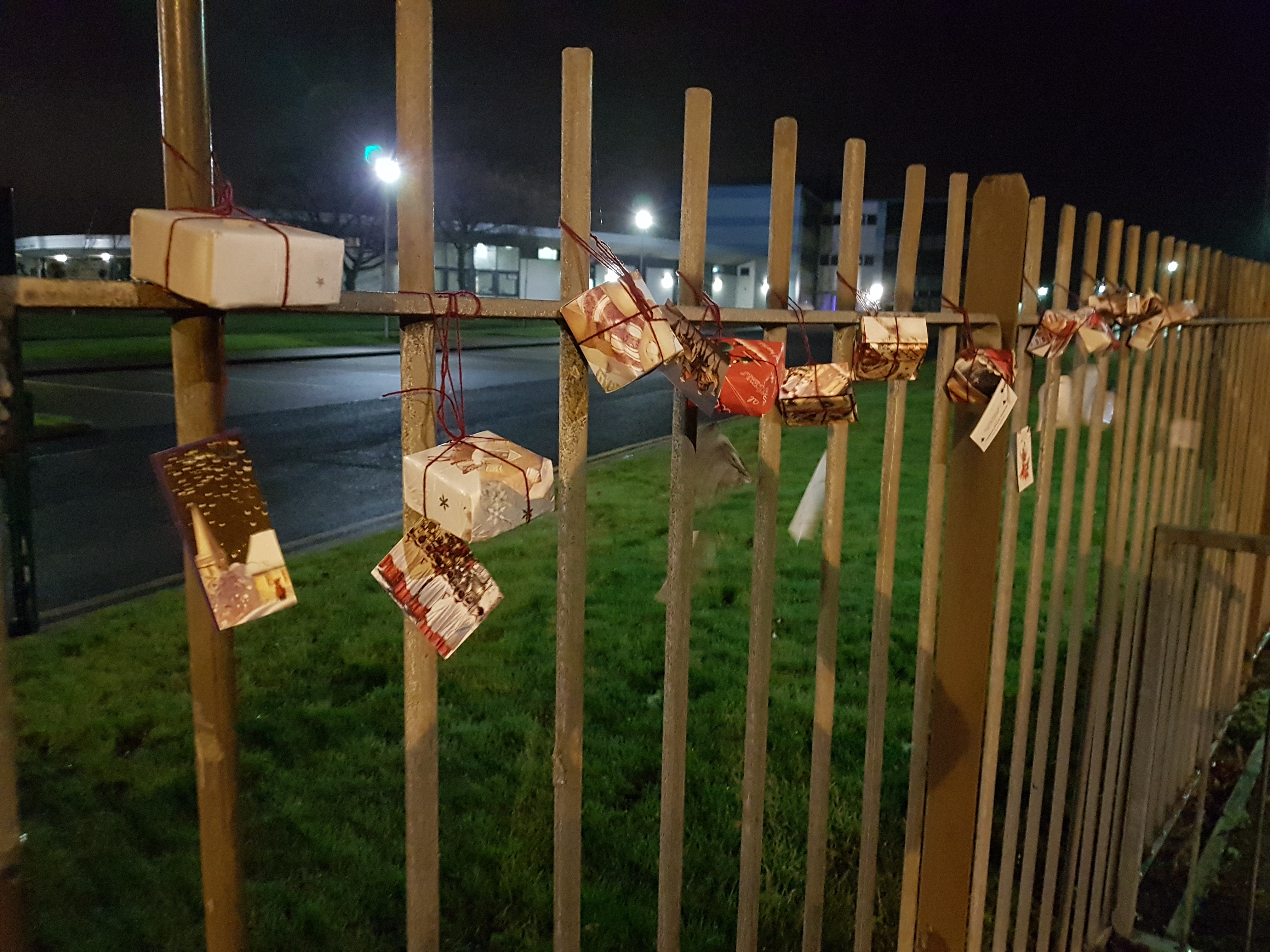 Church member, Oliver Brown (14), said 'It was a good thing to do today because we got to bless people.' Church member Sandra Hall said 'It's great to get the Christmas message out'. Church member Lizzie Haydon said 'It's sharing God's love with people who might not already know about it.' Community Evangelist Pete Tomkinson said 'It was hard work getting up this early in the morning but it was definitely worth it. We want people to know that they are precious in God's eyes.
Rev Linda said, 'It was lovely to watch children on their way to school getting excited when they saw the surprise waiting for them. They pointed them out to their parents and ran to the railing to see what they were. We watched parents lift their children up to choose their own box and they saw the children shake the boxes to see if there was anything inside. They opened them to read the message and enjoy their treat! We've had lots of lovely 'thank-you's in person and via Facebook. It's a wonderful thing to put a smile on someone's face – such a simple pleasure!'
This builds on the Christmas Blessing of last year when Freedom Church Mereside distributed 320 knitted angels with messages of blessing for the Mereside estate. Rev Linda said 'It's been great fun and I've already got ideas for what we can do next year!' To find out more about Freedom Church Mereside, find us on Facebook or email: revlindat@hotmail.co.uk
---