Last updated 26th March 2020
The See: Practical information for parishes and advertisers
PLEASE NOTE: The See magazine is currently suspended due to the coronavirus outbreak; there will be no costs incurred by parishes for The See during the suspension. The April edition had just been printed when the lockdown occurred. You can read a revised pdf version of that edition below. The See will return in magazine format in due course. Any questions about The See in relation to the suspension, please email coronavirus@blackburn.anglican.org
---
What this page contains:
Overview of the effectiveness of The See magazine
Link to the digital archive
Link to 'submitting content' page
Advertising in The See
Formats available and costs for parishes
Information about delivery of The See for parishes
---
In this digital age, we have assessed 'The See' - our magazine for parishes across The Church of England in Lancashire (Blackburn Diocese) - is still very popular, so we retain it as part of our wider stable of communications; including digital alongside more traditional methods.
We know it has very high levels of engagement. Awareness levels of The See amongst our parishes stands at 90%+ … as established recently via a 2018 survey carried out as part of the Archdeacons' annual 'Articles of Enquiry' questionnaire sent to parishes.
In the survey there were also high numbers of parish respondents (80%+) who said the magazine was 'relevant' and helped them to keep in touch; placing it top five most engaged communications methods we use to reach parishes in each case.
Additionally, our regular contributors from across the Diocese (many of whom are 'repeat customers') have also been questioned and tell us they get excellent response when they promote events in The See.
---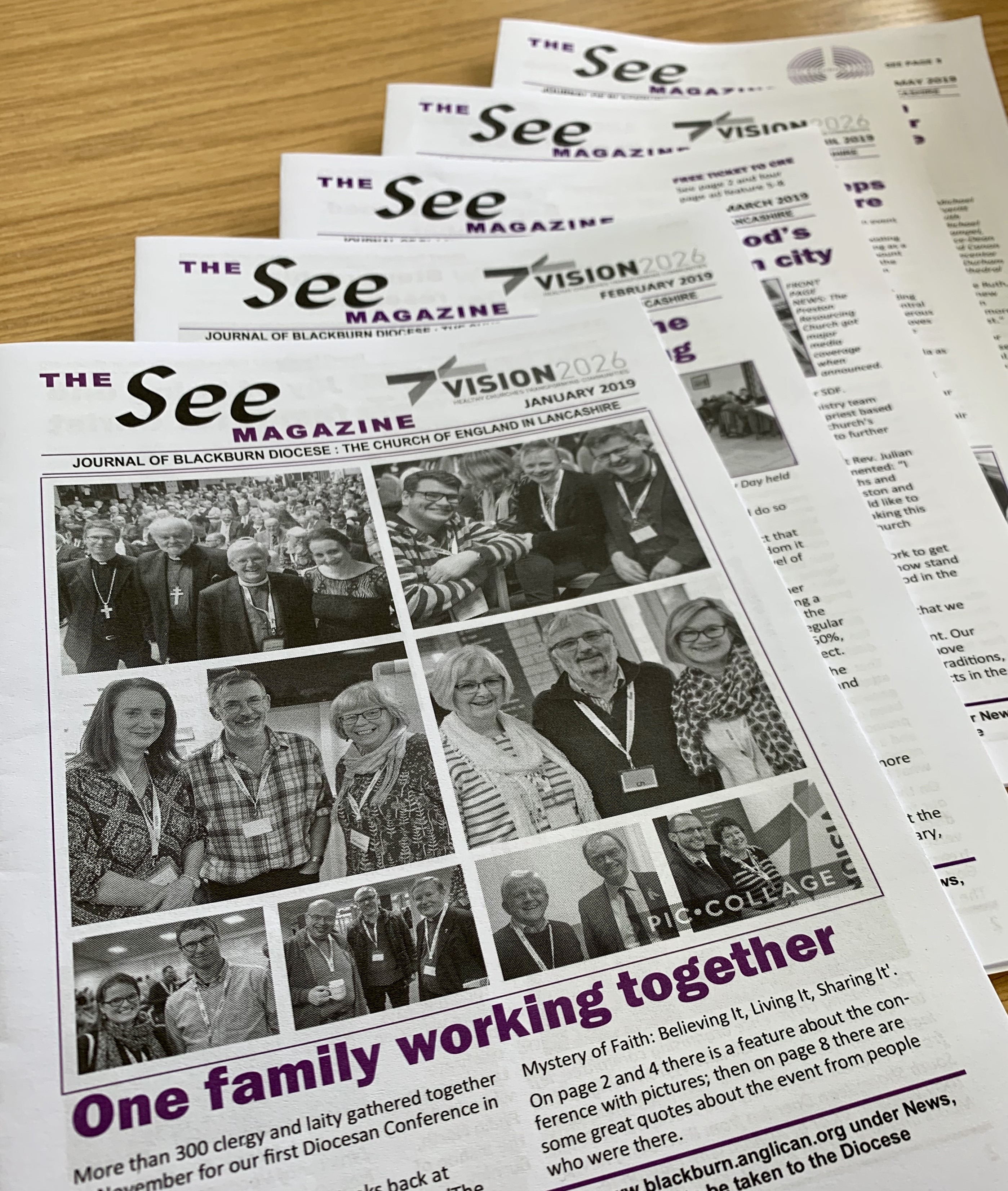 LATEST EDITIONS AND ARCHIVE EDITIONS: The very latest editions of The See magazine and our digital archive going back several years are on this page of our website.
---
SUBMITTING CONTENT: For more information about copy deadlines and submitting articles for the magazine you can visit this page entitled 'Content for The See'.
---
MESSAGE FOR ADVERTISERS: The See occasionally features advertising to help offset the cost of production.
Businesses with some relation to the work of the Diocese and/or businesses with have a Christian ethos, may be considered as advertisers in the magazine, which reaches virtually all of our nearly 250 churches across Lancashire.
For more information visit this more detailed advertiser page or contact Diocesan Communications Manager, Ronnie Semley via email on ronnie.semley@blackburn.anglican.org
---
FORMATS AND COSTS FOR PARISHES: Parishes can obtain copies of The See as follows (2020 prices):
Standard A5 Booklet, folded and stapled (the most common format) - 19p each
Standard A5 Booklet, folded and unstapled - 19p each
Email £45 inc VAT per annum – You have the choice of either a Microsoft Word file (text only), or a PDF file. The Word file can be copied and pasted into parish newsletters. The PDF file is designed for local photocopying.
Mastersheet £45 inc VAT per annum – this is just one physical paper copy which is posted to the church to photocopy directly.
---
DELIVERY: If parishes want to arrange a change of delivery address or to change the number of copies of The See they receive, they should contact the Senior Administrative Officer for communications, Karen Ashcroft, via email, karen.ashcroft@blackburn.anglican.org or phone 01254 503070.
Ronnie Semley, September 2018; latest update November 2019
---