Last updated 11th October 2018
Routes of Faith programme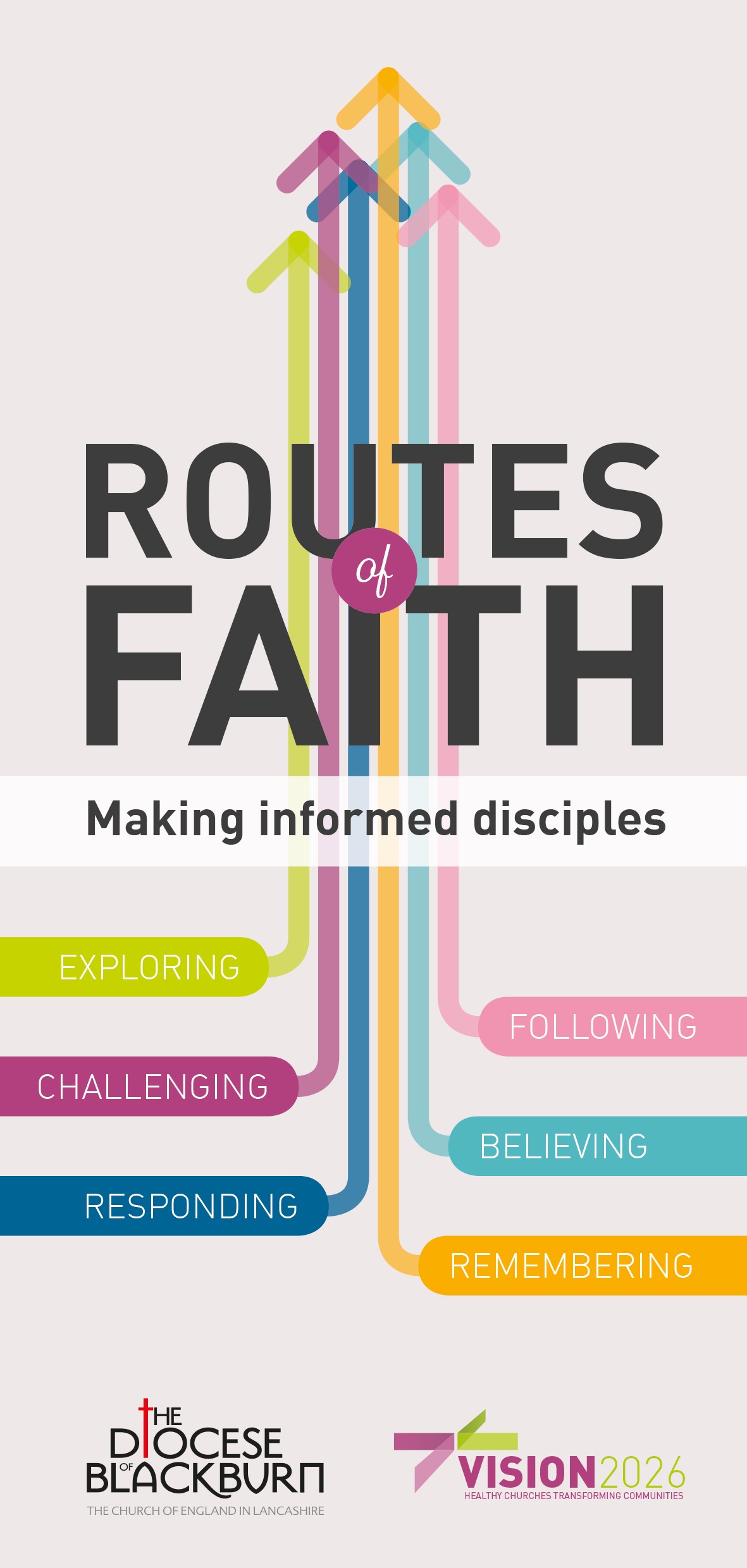 The new Routes of Faith Programme is for anyone who is interested in learning more about their Christian faith.
Two of the key areas of Vision 2026 are Making Disciples and Being Witnesses. We believe that knowing the Scriptures, understanding what we believe, and thinking about how we show this in our daily lives are crucial to our journey of Christian Discipleship and our ability to be Witnesses to Jesus Christ.
We trust that the programme's modules will help you to:
Know the Scriptures better
Pray with greater depth and urgency
Talk about your faith with more confidence
Think about how we show God's love in action
Reflect on how our churches fit in to today's context
Consider your own participation in the Church
You can do just one module, all six, or any number of the modules. The modules are independent, so you don't have to do them in any particular order or in a single year. You can choose whether to complete assignments, and what sort of assignment to do – they aren't all essays!
Some comments from last year's students:
(Gave me) more confidence in sharing faith and answering questions 
Discussions enjoyable and stimulating 
The session on theological reflection has encouraged me to continue along this path and to take time out to listen and pray
It's good to gather with other Christians and hammer out the issues that face us today in the world and in our parishes. 
A great (re)introduction to theological teaching in an unthreatening (dare I say, friendly?) atmosphere. 
The course has allowed me to see how the Old Testament fits together as a coherent whole, and how strands can be seen which cross
---
The Module timetable for 2018/19
All sessions will begin promptly at 7 pm and finish at 9.15 pm, with a drinks break partway through
Module

Venue

Tutors
Date
Module Status

Remembering the people of God and the Old Testament

Clayton Brook Community Church

PR5 8HL

Rev Andy Meeson & Rev Ian Enticott

Thursdays

20th Sept – 18th Oct 2018

1 place available

Responding in the power of the Holy Spirit: spirituality, prayer and worship 

Ingol St Margaret

PR2 3ZU

Elizabeth O'Connor & Mel Clarke

Tuesdays

30th Oct – 20th Nov & 4th Dec 2018

1 place available

Exploring our identity through the history of our Church 

Bispham All Hallows

FY2 0AY

Rev Tom Woolford & Rev Mike Print

Wednesdays

16th Jan – 13th Feb 2019

3 places available

Believing the teachings of the Church: questions of faith and doctrine

Whalley Abbey

BB7 9SS

Rev Christopher Dingwall-Jones & Michael White

Tuesdays

5th March – 2nd April 2019

7 places available

Following Jesus through the New Testament 

Appley Bridge All Saints

WN6 9DT

Rev Mark Bradford & Ann-Marie Aspden

Wednesdays

1st – 22nd May & 5th June 2019

5 places available

Challenging the world and ourselves: ethics and mission in the modern world

Chipping and District Memorial Hall

PR3 2QH

Rev Fiona Jenkins & Ann-Marie Aspden

Mondays

17th June – 15th July 2019

1 place available
The Programme leaflet has more information.
The application form can be downloaded here.
---