Last updated 2nd March 2020
Parish Share 2020: Information and resources for parishes
Thank you to each and every parish for your ongoing contributions to Parish Share.
The new Parish Share budget booklet for 2020 (link below) contains an overview of the budget; helpful insights into how it funds the work of Vision 2026 and budget information presented in graphic form.
There are important messages parishes should read about the way ahead for Parish Share from the Diocesan Bishop, Rt Rev. Julian Henderson (extract also available below) and from David Barlow, Chair of the Diocesan Board of Finance (extract also available below). These messages sit alongside other general information and helpful pointers about where to get more advice as well as further assistance if needed.
Via the links below there are a variety of additional helpful resources for viewing and downloading. Parishes should avail themselves of everything available ...
All parishes have received a copy of the budget booklet along with their Parish Share Assessment Letters. Ten printed copies have been sent to each benefice for PCC members
Once PCC members have absorbed the information they are encouraged to promote the key messages using their regular local communications channels, such as parish magazines, parish websites and simple word of mouth.
The digital version of the leaflet can be viewed online by clicking below, or it can be downloaded to a local laptop for viewing or for printing further copies ...
Parish Share Budget Booklet 2020 - digital version
Further resources ...
PowerPoint presentation delivered by Board of Finance Chair, David Barlow, at Diocesan Synod in October 2020
Resourcing the mission of God in Lancashire: This was an important Diocesan meeting attended by more than 200 people from our parishes in March 2019 informing our future path in relation to Parish Share. Keynote speaker was Canon Dr John Spence CBE, Chair of Archbishop's Council Finance Committee. Read more about the meeting and listen to the talks, including John Spence.
If you have any questions about the Diocesan Budget budget or your Parish Share calculation, please contact our Finance Team via the Diocesan Office main switchboard number 01254 503070.
More useful links ...
---
Parish Share booklet extracts - Bishop Julian and David Barlow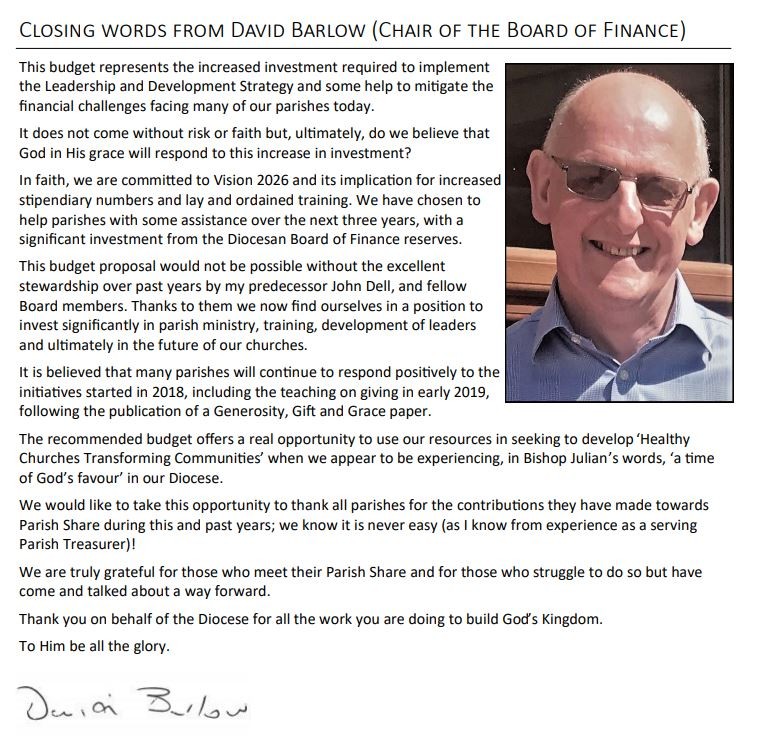 ---