Last updated 26th March 2020
How to advertise in The See - our diocesan magazine
PLEASE NOTE: The See magazine is currently suspended due to the coronavirus outbreak; there will be no costs incurred by parishes for The See during the suspension. The April edition had just been printed when the lockdown occurred. You can read a revised pdf version of that edition below. The See will return in magazine format in due course. Any questions about The See in relation to the suspension, please email coronavirus@blackburn.anglican.org
---
What this page contains:
Information about advertising in The See - our Diocesan magazine
---
Advertising in The See magazine is still an excellent prospect in this digital age.
'The See' - distributed for parishes across The Church of England in Lancashire (Blackburn Diocese) - is still a popular communications channel, so we retain it as part of our wider stable of communications; including digital. In the most recent complete year (2019) it had an average monthly distribution of 14,000.
We also know it has very high levels of engagement. Awareness levels of The See amongst our parishes stands at 90%+ … as established recently in a 2018 survey carried out as part of the Archdeacons' annual 'Articles of Enquiry' questionnaire sent to parishes.
In the survey there were also high numbers of parish respondents (80%+) who said the magazine was 'relevant' and helped them to keep in touch; placing it top five most engaged communications methods we use to reach parishes in each case.
Additionally, our regular contributors from across the Diocese (many of whom are 'repeat customers') have also been questioned and tell us they get excellent response when they promote events in The See.
---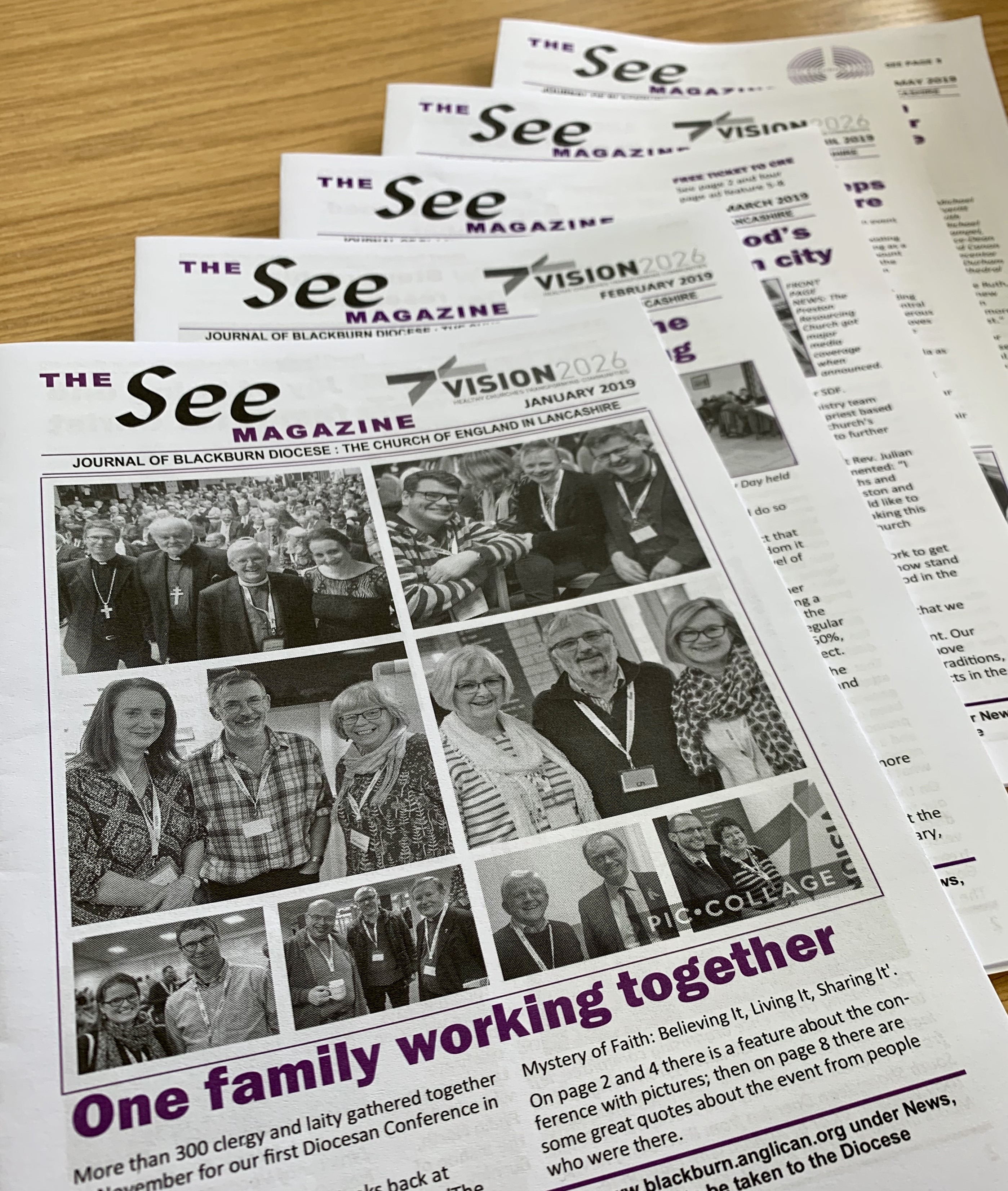 ADVERTISING IN THE SEE: The See can feature advertising to help offset the cost of production.
Businesses with some relation to the work of the Diocese and/or businesses with have a Christian ethos, may be considered as advertisers in the magazine, which reaches the majority of our parishes in Lancashire.
Each edition of The See magazine is also placed on the Diocesan website.
This page is consistently one of the top 10 most visited pages of the site.
The magazine is promoted via articles to the local media and information on social media.
Advertisers who appear in the magazine will have their advert fetured in the online version of the magazine free of charge.as part of the payment already made for the print advert.
But promotional links can also be placed alongside the latest edition - for example a link to a website and some wording - for a one-off fee of £150.
Additional promotion could also take place via our Diocesan ebulletins for a further fee to be agreed.
To be considered for advertising in The See and the other options listed above (and to receive our rate card) businesses should contact Diocesan Communications Manager, Ronnie Semley in the first instance. Ronnie will then put you in touch with our advertising management company to make detailed arrangements to advertise.
Ronnie can be reached via email (ronnie.semley@blackburn.anglican.org). Please supply your full contact details, including a phone number, to facilitate further discussion if required.
---
Other pages for The See
LATEST EDITIONS AND ARCHIVE EDITIONS: The very latest editions of The See magazine and our digital archive going back several years are on this page of our website.
---
SUBMITTING CONTENT: For more information about copy deadlines and submitting articles for the magazine you can visit this page entitled 'Content for The See'.
Ronnie Semley, September 2018; latest update November 2019
---