Last updated 31st March 2021
Lent and Easter Resources including 'Looking Out in Lent' course and #LiveLent
This page features a variety of resources for Lent and Easter 2021.
---
Introduction to the Easter messages from our Bishops
Easter messages from Bishop Julian, Bishop Philip and Bishop Jill are now available to watch/read/listen to on the Diocesan website and on our Diocesan YouTube channel.
They will also be sent round the Diocese in a special edition of Parish Update ebulletin.
On the main news pages of this website located here, and for each message, you will find an embedded video, the full text and also a downloadable pdf for printing/sharing locally.
We have also embedded the videos below in the next section.
Meanwhile the messages to the people of the County, with the hope we have in the resurrection of Jesus, have also been sent to the local and regional media and should feature widely across the coming days.
Coverage will include BBC Radio Lancashire around 7.40am on Maundy Thursday during 'Breakfast' (also available after broadcast here) and the messages will also feature on the station on Easter Day between 6am and 10am (available after broadcast here).
Coverage also at the weekend on That's Lancashire TV news (Freeview channel 7); the Lancashire Post (Viewpoint column on Saturday); in other newspapers and online news sites too.
---
Bishop Julian's Easter message
Please also note that on Easter Day, our diocesan online worship will be led by The Revd Sarah Gill and Bishop Julian will preach in a service that will also reach out to those of other cultures. The service will be added to the channel, which is here, on the run-up to the Easter weekend.
Bishop Philip's Easter message
Bishop Jill's Easter message
---
Looking out in Lent: Our five week Diocesan Lent course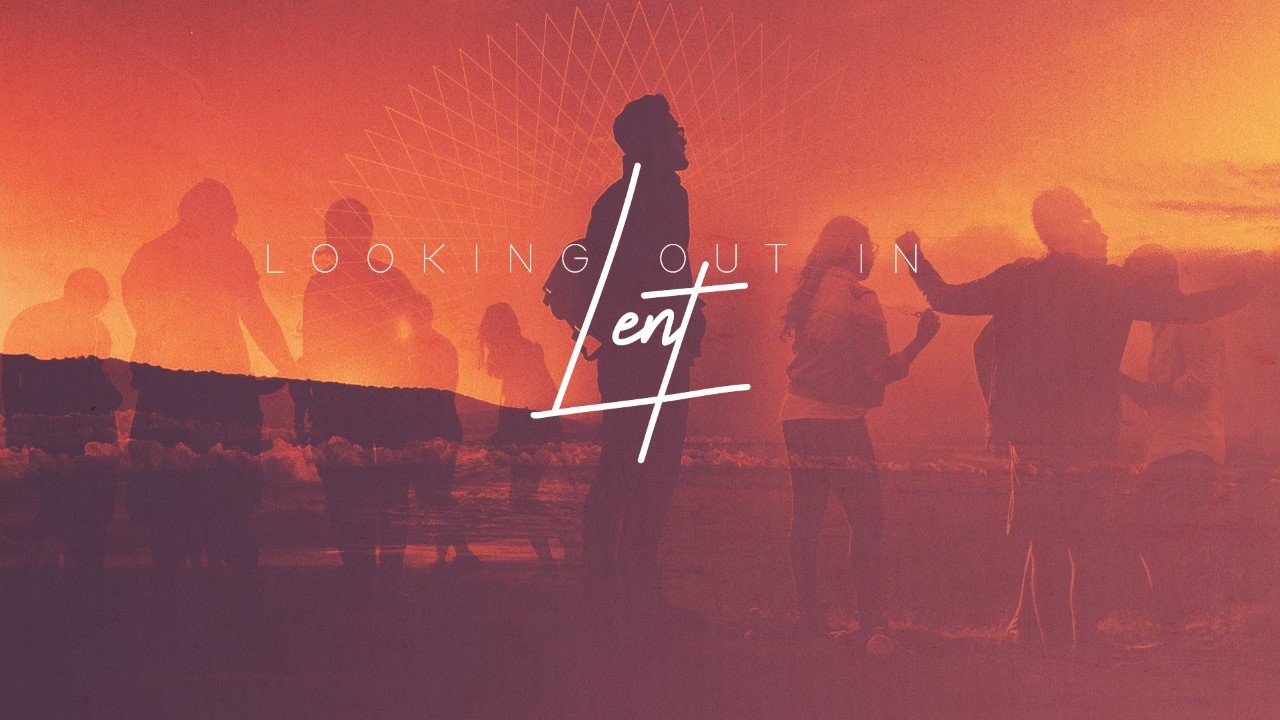 Our weekly online Diocesan Lent course ran from February 24 and featured talks from our Bishops and Archdeacons.
This course was in addition to our wonderful new Lent Devotional booklet (see next section for more on the booklet).
The new course (overarching title 'Looking Out in Lent') took place across five Wednesdays from February 24, at 7.30pm - 9pm on each occasion.
This course is the latest digital resource for parishes to engage with as the pandemic and lockdown continues; following other recent digital content such as for Advent and Christmas; the recent 'Call to Pray and Give' and the popular #HomeGrown online conference.
'Looking Out in Lent' will use St Mark's Gospel and the five marks of mission to explore ways of being a more outward-looking church as we start to move out of the pandemic.
The course was accessible as five 'live' sessions on Zoom, each consisting of 15-20 minute talks immediately followed by a Zoom breakout Q and A discussion.
Meanwhile, each talk was also available in pre-recorded form on our YouTube channel by the weekend before each Zoom session.
Click here for links to each of these talks which have been collated together. So you can still catch up on the talks now the course is over.
---
Looking Out in Lent talks: YouTube versions
Each week of the course as well as a live session (see above to book and for more info) there was also be a recorded version of each talk made available on YouTube by the weekend before each live Zoom session.
This was to further assist parishes wanting to run their own Lent courses at the same time but using the same video content. You can still watch the recordings now the course is complete. Just click where indicated to go straight to the relevant talk you want ...
---
Lent Devotional: Read Mark and Learn
Written by clergy and lay-people from across the Diocese, we travel through Lent with Mark's Gospel.
After the success of the Advent Devotional where 5000 copies were distributed across the Diocese, we have produced a similar resource to take us through Lent entitled 'Read, Mark, and Learn'.
Our focus this time will be on Mark's Gospel and will take in every verse, with contributions from both clergy and lay-people.
An initial 7000 copies were all snapped up so we printed a further 2000 and nearly all of those have gone too.
But don't worry if you haven't got a copy - it's always available here to read online or to download.
Click to read/download the booklet
---
#LiveLent national campaign
#LiveLent is the largely digitally-based campaign from the national church that everyone can get involved in.
There are a whole of resources available:
Resources for group study
Family activities
Webinars
Sign up for our free Lent email reflections
There is also an app to download and #LiveLent is also taking place in conjunction with the Daily Hope phone line as well.
Find everything you need for #LiveLent in one place click here.
... and you can also watch the #LiveLent video ...
---
Resources from our Board of Education for children/young people
Easter Explorers and Easter Activity Sheets
This Easter from the Diocesan Board of Education, sees the return of the Easter Activity Sheets, two brilliant activity sheets for families to complete outside.
There is also a brand new resource: 'Easter Explorers'.
Easter Explorers is a guide taking you through the key dates of Holy Week with sessions created for use outdoors.
There are even faith at home inspiration and ideas. All these resources are designed to be adaptable the current pandemic situation and they are available here now
40 ideas for children during Lent
We have also received this lovely image with some wonderful ideas to share with and do with children at this time. It comes from the United Benefice of Balderstone, Mellor and Samlesbury.
---
Walking the Way of the Cross podcast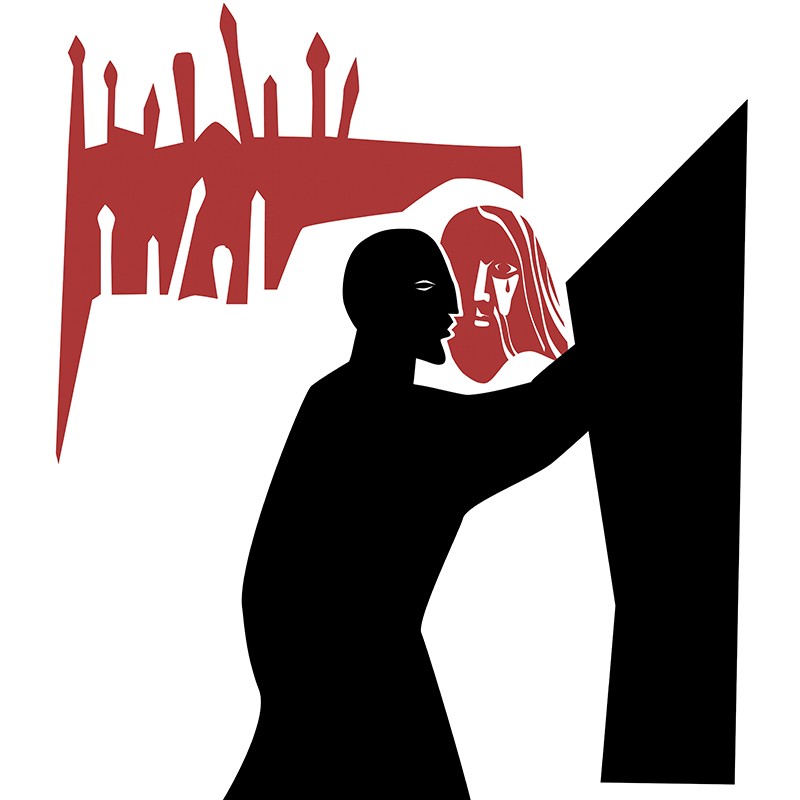 A new 'Walking the Way of the Cross' podcast is available from Church House Publishing, featuring Archbishop Stephen Cottrell; Canon Dr Paula Gooder and our own Bishop Philip.
Visit this page of The Church of England website for more.
And find out more here about the Walking the Way of the Cross book and Kindle e-book which features further reflections on all 15 Stations by the three participants.
---
St James' videos bring the Biblical narrative alive
Rev. Mark Pickett of St James' Clitheroe has written and recorded a series of six short, 'talking heads', style videos for Holy Week, based on some of the characters in the Biblical narrative.
St James' will be premiering them on YouTube each day starting on Monday. Their channel is here.
For Easter Day Mark has recorded a short talk which pulls together the themes he explores with each character and talks about how our attitudes and feelings can be transformed by the resurrection.
View and/or share a one minute promo video available here: https://youtu.be/rbeECB_Awbw
---
Football-themed resources to share the Gospel at Easter
Ambassadors Football has produced a free resource for any church to use this Easter.
Either in person or virtually you can send video links for a football coaching session, Bible time and drama all linked to the theme of Jesus's Friends.
Click here to find more information about the camp resource.
---
Good Friday special Catalyst event for young people
The Diocesan Board of Education Catalyst Good Friday Special takes place 7-9pm on April 2.
What is Catalyst?
Catalyst offers young people (11-18) the opportunity to engage in worship, thought provoking messages and in-depth discussions with those like-minded and similar in age to themselves.
It is currently an online space for churches with just a few young people in number (between 1-10).
To sign up simply complete the BOOKING FORM or if you need consent forms or for more information use the link HERE which will take you to the Board of Education website. Any other questions please feel free to get in touch with Tabs on tabs.halliwell@blackburn.anglican.org.
---
Cathedral 2021 Lent programme: God's story, our story
The event above with Canon Dr Jenn Strawbridge is one part of a wider programme of events this Lent 2021 at Blackburn Cathedral.
Thursday Lent talks
Each Thursday at 7pm (25th Feb-25th March) will be a brief talk from one of the clergy on the theme of 'God's story, our story' followed by a chance for questions and conversation. The whole session will last no more than 30 minutes. The event will be on Zoom, and the 'talk' part will be uploaded to YouTube afterwards. Please email missioner@blackburncathedral.co.uk for the Zoom link.
Study groups
Each week following the talk, the same theme will be picked up in Lent groups. The Cathedral is offering four groups this year, all by Zoom. Each session will last no more than 45 minutes. If you would like to join one of the groups, please contact missioner@blackburncathedral.co.uk indicating which of the following you could manage:
Monday evenings
Tuesday evenings
Friday lunchtimes
Saturday mornings
Please indicate all of the times you could manage so that you can be allocated to a group and we can manage numbers. NB if you can attend both a study group and the Thursday talks, that is great, but each stands alone!
Prayer guides
The Cathedral will also be updating and re-issuing a weekly printed resource with ideas to help you pray at home. Talking and listening to God is a key part of God's story, our story. The prayer guides can be downloaded from the Cathedral website each week.
Quiet morning
In addition, Bishop Philip will be leading a quiet morning on the Seven Last Words from the Cross. This will be by Zoom on Saturday 27th March, 9.30am-1pm. Please see the Diocesan website Events section for details.
---
Diocesan Facebook group for help and advice
The closed Facebook Group that was set up in order to share Advent and Christmas resources within the Diocese is now renamed Epiphany to Easter 2021 resources.
Contact joy.rushton@blackburn.anglican.org to be added to the group.
.
---
Lent series from Blackpool Ministry Experience
Members of Blackpool Ministry Experience have worked on four short services to be posted online on Sundays during the season of Lent beginning on the February 21 until March 14.
They will remain online after the series is over to watch. The series of services take you through the season and have been created by Jon, Tom and Emily (pictured) who are current participants of the Blackpool Ministry Experience scheme.
For more on this series of services click here.
---
The Big Lent Read (part of Big Church Read)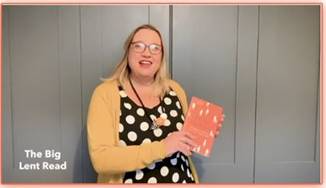 The Big Church Read is a national church book club for the UK, run in partnership by publishers and booksellers. It's free to join in, either for individuals, home groups or whole churches.
Following the success of the first ever Big Church Read last September, this year's first event, starting on February 17, 2021 is the Big Lent Read through the Archbishop of Canterbury's Lent Book Living His Story.
Through a series of short weekly videos released on the Sundays of Lent, author Hannah Steele will unpack liberating and practical ways of sharing the Gospel story afresh, and share how we can live Jesus' story in our own lives simply by allowing people to be drawn to him through our natural gifts. You can find out more about it by clicking here (includes a explanatory video).
---
The Clewer Initiative Lent Course
The Clewer Initiative is launching an ambitious new Lent Course: Women in the Shadows; focussing specifically on female victims of modern slavery in the UK today and those involved in supporting them.
'Women in the Shadows' is fresh, hard-hitting and empowering. At the heart of the course are five mini-films which include survivor stories, dramatised by actresses alongside expert interviews.
Further information and sign up details are available here.
---
A round up of some other great resources we've found
Ronnie Semley, February/March 2021
---