Last updated 2nd May 2019
Bishop's Bible Challenge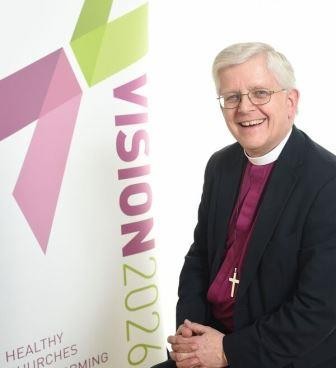 Bishop Julian introduces his 'challenge'
At the heart of Vision 2026 lies the call for Christians to be first and foremost disciples of Jesus Christ.
That entails, in part, a deeper commitment than attendance at services of public worship, a more generous giving of time, talents and money in promoting the Gospel and growing God's Kingdom, and a better knowledge of the Scriptures; God's revelation of who He is, what He has done and what He requires.
Starting in 2019, as part of our stated aim to have an ongoing 'focus on discipleship' ... seeking to create 'whole-life disciples', living out their faith every day, I am introducing the 'Bishop's Bible Challenge', encouraging us to learn key verses of Scripture, to create a kind of 'internal treasure store' of the promises and command of God.
The Challenge will be a key part of our current work as a Diocese to develop 'whole-life disciples' – which includes encouraging better knowledge of the Bible – an initiative which is supported by this YouTube video, featuring people of all ages and backgrounds from across Lancashire, first shown at the Diocesan Conference in September 2018.
At the Primary Visitations of Churchwardens in May, the Bishop's Bible Challenge was given a further impetus when I introduced a new booklet, suitable for all ages, entitled 'Knowing The Scriptures Better'.
Commended by me in the introduction and written by Ruth Hassall, our Director of Discipleship, 'Knowing The Scriptures Better' is a focussed six week study booklet allowing you to conside the Bible more deeply, with memory verses to learn, and space for your notes as you pray and talk to God.
Multiple copies of the booklet can be ordered free from the Diocesan Offices - see the end of this article for order details.
There is also a Bishop's Bible Challenge 'memory verse' at the top of the 'Blackburn Prayers' prayer diary for each day.
You can also sign up for a Daily Prayer email. Also see below for how to engage with Blackburn Prayers and the Daily Prayer email.
For this year, 12 verses (one a month for a year) have been chosen for each of three Vision 2026 themes of making disciples, being witnesses and growing leaders, hence 36 verses in all.
The idea is that, in 2020, we shall find a way of concluding this Bible Challenge. I commend the booklet an the prayer diary to the Diocese as a way of growing as disciples of Jesus Christ.
+Julian
---
Ordering 'Knowing Your Scriptures Better'
The 'Knowing Your Scriptures Better'' booklet is suitable for a wide age range and people at all levels of the discipleship journey, will be distributed to all who attend the Primary Visitations as well as other key events this year.
It is also available to order separately from these events, from May onwards, from this link here
Indicate the number you require and specify how we can help you to get them. Click the link above and then click the green 'Register' button followed by the green 'Checkout' button.
---
There are three ways to access Blackburn Prayers and the bible verses:
You can sign up to receive Blackburn Prayers as a daily email to your inbox each day here.
You can access the monthly prayers here
You can ask for the list to be sent to you before the start of the month by emailing karen.ashcroft@blackburn.anglican.org
---